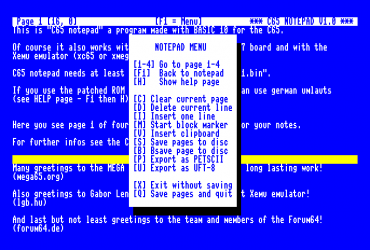 C65 Notepad is ...
... a simple text notepad (with four pages) to type in short text notes which could be saved on disc in the internal disc drive.
It could be used e.g. for notes about the programs on the disc (like readme docs etc.), a shopping list, your favorite cookie recipe, collect your ideas or whatever you want to take a short note of.
C65 Notepad is not ...
... a wordprocessor to type your long loveletter to your sweetheart, your newest bestseller novel or your dissertation.
Type
Area

Tool
Release Date

Jul 14th 2020
Files
application/x-zip-compressed, 197.79 kB (673 downloads)